EXPERT HELP
Expert academic assistance within easy reach
00
ON-DEMAND, ONE-TO-ONE HOMEWORK HELP: Students draw or type their question in our online classroom and receive live homework assistance from a Brainfuse-certified tutor. Tutors are trained to not simply provide answers but to help students master the homework assignment's underlying academic concepts.
00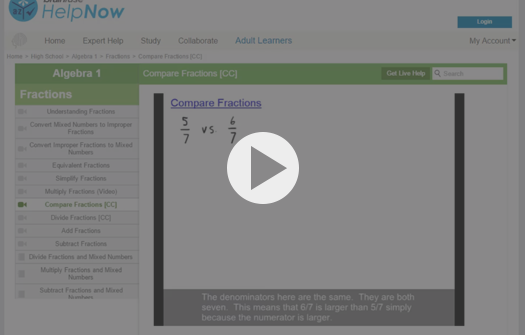 COMMON CORE / STATE-ALIGNED SKILLS BUILDING: Our Skills Building service helps students address academic needs that run deeper than homework help.
With Skills Building, Brainfuse tutors help students master core academic skills through the same state-aligned lessons that we developed for our school-based programs. Skills Building is one of our most popular features, and many clients cite it as the main reason for switching to HelpNow.
00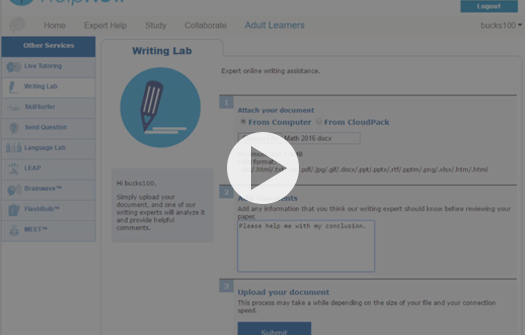 COMPREHENSIVE WRITING ASSISTANCE: Our writing service is unique in that we do not merely proof or edit a student's writing. Drawing from an experienced staff and research-based methodologies, we offer students two high quality options:
Live Writing Assistance: Patrons receive live writing assistance from Brainfuse tutors via our online classroom, which features intuitive copy/paste technology and secure file sharing. Live writing assistance is particularly helpful during the preparatory stages of the writing process when students need help organizing outlines and developing general themes.
Premium Writing Lab: Our premium writing lab offers students an unmatched level of analysis. Patrons submit papers via our secure file sharing feature (no email address required) and our writing experts carefully analyze each paper with respect to voice, word choice, content, sentence fluency, and organization. Papers (complete with constructive comments) are returned to patrons within 24 hours.


00
FOREIGN LANGUAGE LAB: On-demand homework help and other resources for patrons who are taking a foreign language class. Spanish is currently supported with other languages to follow.
0000
SEND QUESTION CENTER: The Send Question Center is ideal for patrons who require a detailed, extended explanation of a difficult concept. Patrons simply submit their question and a tutor will respond usually within 24 hours.
0
ADULT LEARNING CENTER: The Adult Learning Center, which provides foundational, career-enhancing skills to job seekers. In addition, the Adult Learning Center offers test preparation (including the GED and the USCIS citizenship test), and a unique academic skills center featuring live, online tutors.