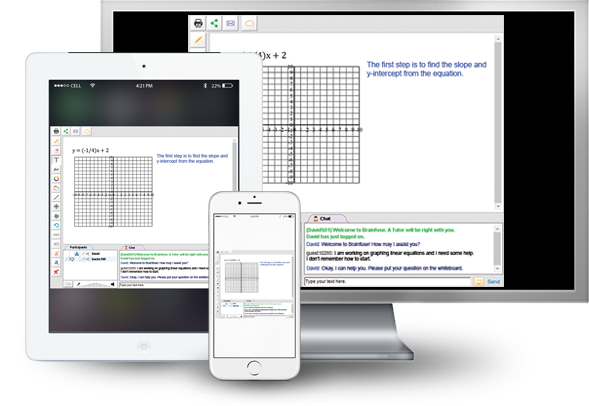 Field-tested and refined for over 15 years in the low-bandwidth environments of rural and inner-city institutions, the Brainfuse Online Classroom epitomizes ease-of-use and accessibility (it is even accessible through dial-up modems). The Brainfuse Online Classroom allows for instant, robust communication between tutors and students. Features include, among other things, freehand drawing, text editing, instant messaging, screen-printing, real-time file sharing, advanced math/science symbols, emoticons, copy/paste, and web-content sharing.
On-demand and prescheduled sessions: Our on-demand system features smart routing and advanced dynamic staffing techniques to connect tutors and students with virtually no waiting time. Prescheduled sessions provide students with a detailed calendar and a sophisticated matching system to provide students with a range of session options to accommodate their schedules.
Fully integrated features eliminate the need for tabbing: For security and ease of use, all of our classroom features are accessible within a single whiteboard environment, without the need for cumbersome tabbing from feature to feature.
Dynamic workspace: Our whiteboard automatically expands to accommodate additional content from tutors and students, so there is no need to tab through multiple screens.
Secure web sharing: Students and tutors can simultaneously view and mark-up web content in a secure environment.  Tutors can easily display web content that has been pre-approved by the Brainfuse curriculum team for security, accuracy, and educational value. When accessing other web content, tutors can preview it prior to sharing it with the student.
Secure File sharing: Files in all major formats (.pdf, .html, .txt, .xls, .jpg, .gif, MS Word, etc.) may be downloaded using a secure file-sharing feature that allows easy transfer of documents while ensuring that tutors never have access to student email addresses or any other personal information.
Print/archive past sessions: Students may cut and paste session transcripts or print out a screenshot of the online classroom. Students may also import saved sessions into current sessions, review archived session transcripts, or use our session player to record and play back entire sessions for future reference.
Snap-n-Send: Snap-n-Send allows users to snap a picture via their mobile device and send the picture to their desktop whiteboard in real-time. This feature greatly expands the input options for users – now they can snap pictures of their handwritten notes, textbook pages, equations, and send them to their desktop whiteboard during a tutoring session.