JOB SEARCH RESOURCES
Online job boards are everywhere, and navigating them can be daunting. For this reason, job seekers benefit greatly from live assistance. After working with students to determine their strengths and career objectives, our JobNow Coaches help them develop an efficient job search strategy.
---

CAREER ASSESSMENTS
Self-assessment tools that helps job seekers determine the best path for a successful career.
---

ePARACHUTE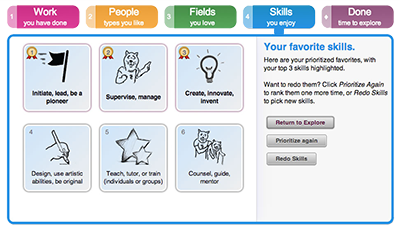 Inspired by Dick Bolles best-selling career guide of all time What Color Is Your Parachute?, eParachute is designed for job-hunters at all stages in life:
Students who are determining what educational path to take in college
Recent graduates searching for what to do with their education
Career-changers wondering what else they can do with their hard-earned skills
Job-hunters who just don't like the options in front of them
Use eParachute to:
Discover most loved strengths,
Determine a college major or courses to help reach career goals,
Explore hundreds of potential career paths, and
See how well careers match what you love to do most.
eParachute's intuitive 3 step process makes it easy to chart a path to work you love.


Within the Explore section, users are able to learn that they may qualify for a job without further education, because of their existing work experience or prior education. Users can also explore potential courses of study, and receive suggestions for college majors. And soon eParachute will add a function that will include college course catalogs connected to these majors.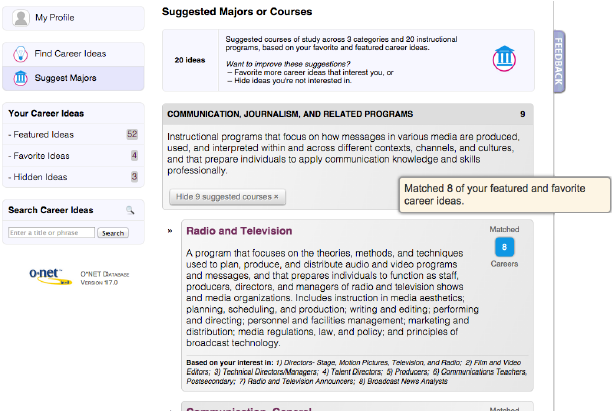 What makes eParachute different?
Dick Bolles' time-tested "self inventory" methods combined with eParachute's unique data algorithms provide you with a personalized path to explore the world of work. Not only can you take your skill assessment online and update it anytime, but you now have the tools to explore the next steps.