The Brainfuse Study Center contains powerful self-assessment and learning tools: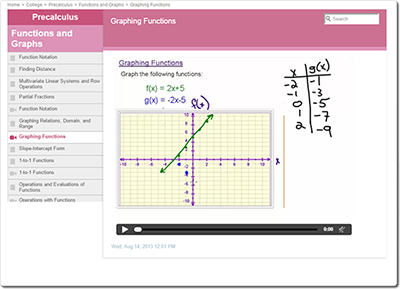 SKILLSURFER

Our SkillSurfer service helps students address academic needs that run deeper than homework help. Our program is designed to individually and systematically build essential skills for college success.
SkillSurfer contains a variety of learning options based on the way an individual learns best.  Students are able to work on textual and video lessons independently.  They can review content through the menu of options. If a student continues to struggle with content, the student can select the "Get Live Help" option from within any lesson and connect with a tutor who has access to that lesson, and who is an expert in the academic concepts covered by the lesson.
---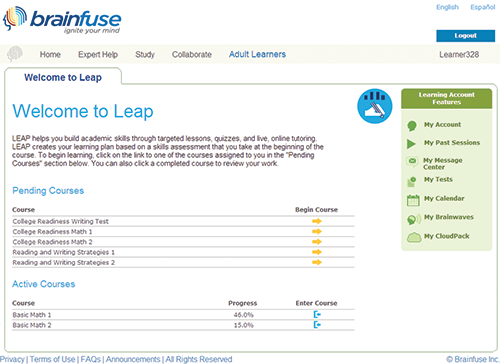 LEAP LEARNING PLATFORM
Upon completing a test, students receive results instantly in the form of a learning plan that identifies skill set areas requiring additional attention. Learning plans provide students with a skill-by-skill breakdown of areas requiring additional attention. The learning plan is not just a list of skills; it is a dynamic learning platform that features a customized blend of video tutorials, written content, and practice test questions. And since our learning plan content is integrated with our tutor routing system, Brainfuse tutors are available to help students every step of the way.
Live Tutoring: While most online remediation programs amount to little more than quizzes and software, we believe that there is no substitute for the responsiveness of live, one-to-one instruction. For this reason, live tutors are key component of our test center's effectiveness.
Progress Tracking: Students are able to track their progress through a graphically-rich progress chart that shows students which skills they have mastered and which skills require additional attention.
---

FLASHBULB™ FLASHCARDS
Flashbulb is Brainfuse's versatile and comprehensive flashcard tool that lets students easily create their own flashcards for effective self-study. Students also enjoy 24/7 access to an extensive library of online flashcard sets in virtually every college subject.
---

PAST SESSION PLAYER
For purposes of study and review, students can view and playback their past tutoring sessions through our session player.