ON-DEMAND, ONE-TO-ONE HOMEWORK HELP
Students and tutors meet in the Brainfuse Online Classroom. Tutors guide students through homework challenges and help them develop the necessary skills to complete assignments on their own.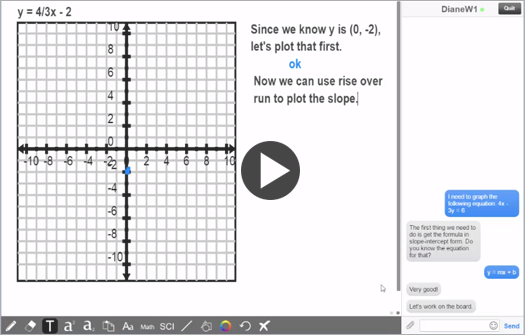 00
---

SKILLSURFER
SkillSurfer offers live skills tutoring and an extensive library of Brainfuse-created lessons and videos tutorials. In addition, SkillSurfer contains hundreds of practice tests in a wide range of subjects.
Live Skills Tutoring: With Live Skills Building, Brainfuse tutors help users master core academic skills through state-aligned lessons (including Common Core-aligned lessons, where appropriate). In addition, users enjoy access to an extensive library of lessons, video tutorials, and practice tests. As a user browses the SkillSurfer library, live tutoring assistance is always available by clicking the "Get Live Help" button.
Test Offerings: SkillSurfer contains a comprehensive library of proprietary practice tests. When a user takes a SkillSurfer test, our system instantly prepares a skill-by-skill learning plan, including recommendations for targeted tutoring. Supported tests include:

The new SAT
ACT
The new GED
TASC (a GED alternative test)
HiSet (a GED alternative test)
GRE
GMAT
ASVAB
TOEFL
TOEIC
US Citizenship Test Course: (including practice tests and lessons)
College Placement Test Preparation: (COMPASS/ACCUPLACER)

College Now: SkillSurfer also includes CollegeNow, a library of resources to help students in the process of selecting and applying to college.
ESL Services: SkillSurfer's ESL offering includes live tutoring for ESL students and a comprehensive lesson library that covers a range of beginning to advanced ESL topics, including reading, writing, grammar, TOEFL prep, and general college application information for English language learners.
00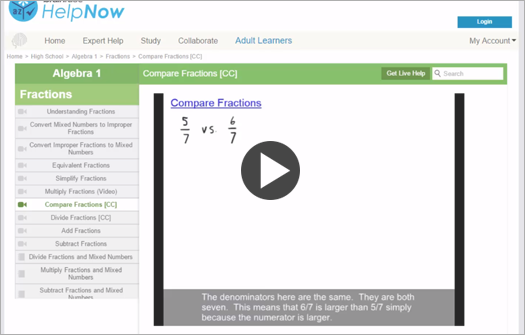 ---

COMPREHENSIVE WRITING ASSISTANCE
Expert guidance through every stage of the writing process.
Live Online Writing Assistance: Brainfuse writing tutors help users become better writers through live chat and real-time document sharing. Live writing assistance is particularly helpful during the early stages of the writing process, when students need help organizing outlines and developing general themes.
Intensive Writing Lab: Our intensive writing lab offers users a premium level of analysis. When students submit a paper to our writing lab, our writing experts respond with instructive feedback within 24 hours. Instead of merely editing papers, our writing instructors strive to help students develop as writers through thoughtful analysis. Comments cover a range of important areas, including voice, fluency, organization, and word choice.
00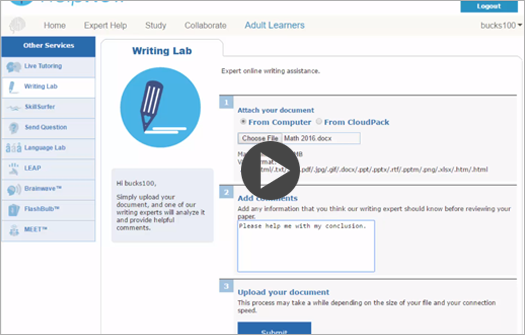 ---

FOREIGN LANGUAGE LAB
On-demand homework help and other resources for patrons who are taking a foreign language class. Spanish is currently supported with other languages to follow.
00
---

SEND QUESTION CENTER
The Send Question Center is ideal for patrons who require a detailed, extended explanation of a difficult concept. Patrons simply submit their question and a tutor will respond usually within 2 business days.
00
---

ADULT LEARNING CENTER
The Adult Learning Center provides foundational, career-enhancing skills to job seekers. In addition, the Adult Learning Center offers test preparation (including the GED and the USCIS citizenship test), and a unique academic skills center featuring live, online tutors.
00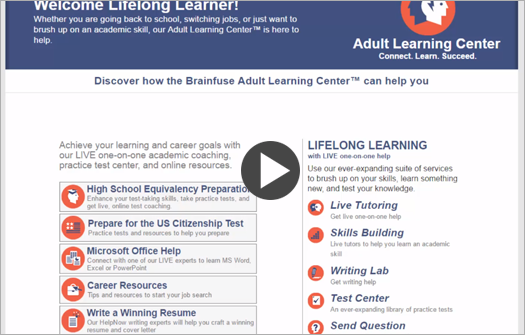 ---
SERVICES FOR NON-NATIVE ENGLISH SPEAKERS
Brainfuse offers tutoring services for non-native English speakers. Please contact a Brainfuse representative for information about support in specific languages.