THOUSANDS OF ENGAGING LESSONS
Our e-lessons include clear explanations and vivid artwork to help users master academic concepts.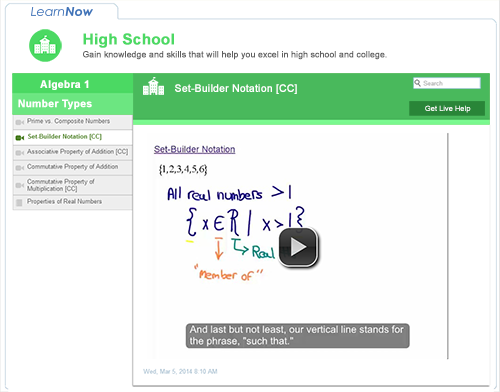 ---
INTERACTIVE QUIZZES AND PRACTICE TESTS
24/7 access to our vast library of state-aligned assessments and standardized tests. Test results are provided instantly and can be used for assessment, skills building, and progress tracking.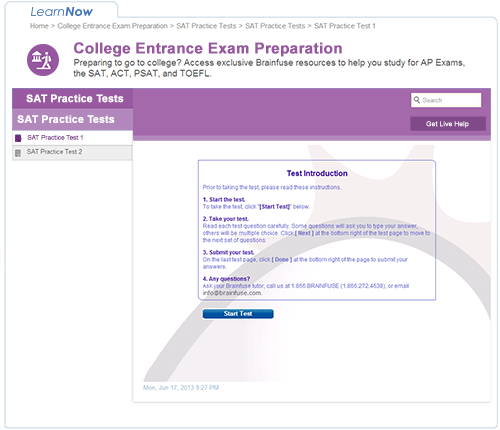 ---
FLASHBULB FLASHCARDS
Flashbulb allows students to access our large library of electronic flashcards and/or easily create their own, turning them into an assortment of fun games and study exercises.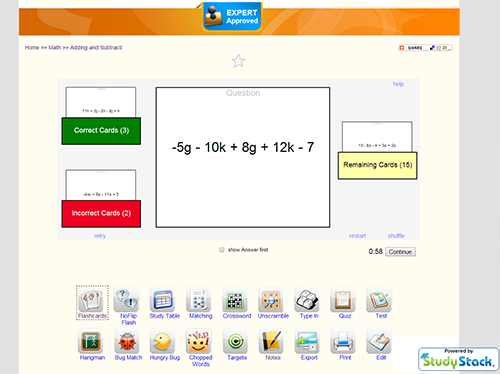 ---
ADD LIVE TUTORING
Combine LearnNow sessions with our expert tutors for a complete and customized learning experience.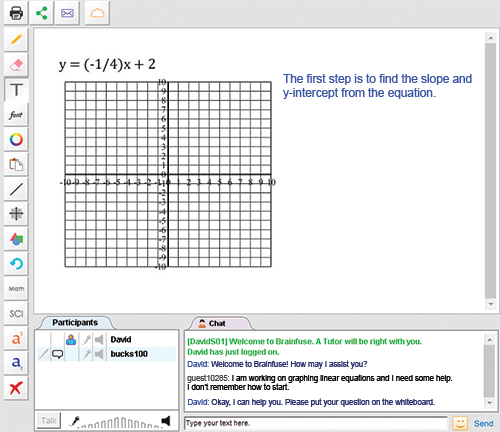 ---
ADD YOUR OWN RESOURCES
Customize your library's LearnNow page by adding your database offerings to our "Resources" section.
---
DESIGNED FOR YOUR LIBRARY'S BUDGET
LearnNow is available in many configurations to meet your library's budget. Contact us for more information.
---
BROAD RANGE OF SUBJECTS
LearnNow provides full academic support in dozens of subjects, including:
Accuplacer
ACT
Air Traffic Controller
AP Biology
AP Calculus AB
AP Calculus BC
AP Chemistry
AP Computer Science
AP English
AP Environmental Science
AP European History
AP Physics B
AP Physics C
AP Spanish Language
AP Statistics
AP US Government
AP US History
Asbestos Removal Licensure
ASSET
ASVAB (Armed Services Vocational Aptitude Battery)
Border Patrol
CBEST (California Basic Educational Skills Test)
Civil Service
CLEP American Government
CLEP Analyzing &Interpreting Literature
CLEP Biology
CLEP Calculus
CLEP Chemistry
CLEP College Algebra
CLEP College Composition
CLEP College Mathematics
CLEP Humanities
CLEP Natural Sciences
CLEP Precalculus
CLEP Social Sciences & History
CLEP Spanish Language
CLEP US History
CDL (Commercial Driver's License)
COMPASS (Computer-adapted Placement Assessment and Support Services)

Corrections Officer Test

C++ Certification
Dental Assistant
Electricians' License
EMS/EMT (Emergency Medical Service/Emergency Medical Technician)
Firefighters' Exam
GED (General Educational Development)
GMAT (Graduate Management Admission Test)
GRE (Graduate Record Examinations)
HiSET (High School Equivalency Test(s))
HOBET (Health Occupations Basic Entrance Test)
ISEE (Independent School Entrance Exam)
Java Certification
K-12 State Specific Tests
Medical Assistant
NCLEX-PN (National Council Licensure Examination for Practical Nurses)
NCLEX-RN (National Council Licensure Examination for Registered Nurses)
Paramedic
Parole Officer
PCAT (Pharmacy College Admission Test)
Plumbing License
Police Officer
Praxis
PSAT
Public Safety Dispatcher
SAT
SHSAT (Specialized High School Admissions Tests)
SQL Certification
SSAT (Secondary School Admission Test)
TABE (Tests of Adult Basic Education)
TASC (Test Assessing Secondary Completion)
TEAS (Test of Essential Academic Skills)
THEA (Texas Higher Education Assessment)
TOEFL (Test of English as a Foreign Language)
TOEIC (Test of English for International Communication)
Treasury Enforcement Exam
USPS (United States Postal Service)
* Additional subjects available