SLAC encourages students to try Brainfuse
Lab coordinator says the college's new tutoring program — and SLAC's on-site tutors — can assist with any classwork.

by R. Eguia and Te Keyshia Johnson, [email protected]
---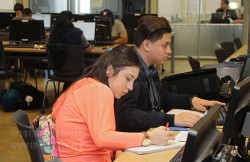 This semester, the student learning assistance center, or SLAC lab, is helping introduce students at this college to "Brainfuse," an online tutoring program through their ACES and Canvas accounts.
Students can access Brainfuse by clicking the ACES "Student" tab, scrolling to the bottom of the page and clicking the "Brainfuse tutoring" link.
The Brainfuse page includes a variety of flash cards, targeted lessons, quizzes and live tutoring through the Leap Learning platform under the "Study" tab.
Dr. Thomas Cleary, vice chancellor for planning, performance and information technology services, said he purchased Brainfuse after reviewing different vendors whose prices varied based on each individual college's use and preference of platform.
The district purchased 3,000 hours of the service for $72,000, Cleary said. Tudor.com, which students previously had used, cost $40 an hour while Brainfuse costs $24 an hour.
Brainfuse covers the most challenging courses for students, determined by the faculty: reading, writing and math, Cleary said.
The lab is testing the waters for Brainfuse by seeing how students are adapting to the program, SLAC coordinator Geraldo R. Guerra said.
In addition to the three most challenging courses, the program helps students with other types of homework assignments, he said. Although the district purchased Leap Learning platforms for reading, writing and math, flash cards also are available for all academic disciplines, Cleary said.
"I enjoy using Brainfuse," liberal arts sophomore Miranda Pacheco said. "It's helpful when I'm struggling on my Spanish compositions. Brainfuse helps me determine the correct words I'm supposed to be using in past or present tense."
When students are having trouble with their assignments, they can use Brainfuse at the lab, which is open outside the normal hours of the various tutoring centers on campus, Guerra said.
Located on the seventh floor of Moody Learning Center, the SLAC lab also provides tutors for students who need help with an especially challenging assignment. A total of eight tutors can assist students with any subject.
"We provide tutors here for all subjects, math, astronomy, Spanish, accounting, statistics, some chemistry and biology, which is a big range," Guerra said.
He said if students want to practice PowerPoint presentations, they can use a room in the lab. Each room has projectors students can connect to their own laptops, tablets or even smartphones. Students can reserve a room by going to the front desk.
"Our challenge for this lab is always trying to convince students that they need to seek out assistance," Guerra said.
He said students shouldn't procrastinate on their homework because those assignments will only build up.
By working with lab tutors and taking advantage of the Brainfuse program, students won't be overwhelmed with assignments, and they will begin to see an improvement in their work ethic, Guerra said.
The SLAC lab is open 8 a.m. to 8 p.m. Monday through Thursday, 8 a.m. to 4 p.m. Friday and 9 a.m. to 4 p.m. Saturday.
For more information, call 210-486-0165.
---